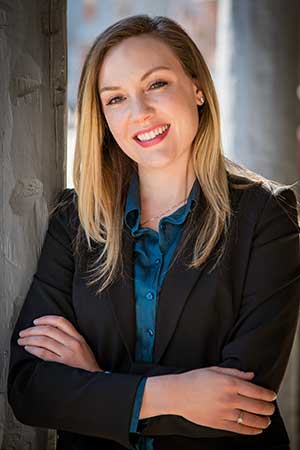 Jane Michalakes
Associate Attorney
Jane Michalakes is an associate attorney with the Law Firm of Marla C. Underell. Jane received her Bachelor's degree in English and Anthropology from the University of Colorado in 2010, and received her Juris Doctor from the University of Denver Sturm College of Law in 2016. Jane is admitted to practice in the State of Colorado, and is a member of the Colorado Bar Association, the Southwest Colorado Bar Association, and Young Professionals of Durango.
At DU Law, Jane interned in a variety of legal areas, including environmental and administrative law, as well as divorce and domestic violence law. Jane was a teaching assistant for a legal writing class and worked as a research assistant in editing and researching articles for publication. Jane also spent a semester researching and writing her own article on the subject of same-sex divorce.
After law school, Jane moved to Durango, CO, and began working as a judicial fellow in the 6th Judicial District, which encompasses La Plata, San Juan, and Archuleta Counties. As a judicial fellow, Jane researched complex areas of law and drafted judicial opinions on active cases, preparing nuanced solutions to constitutional, water, and criminal law issues.
As a new attorney working with the Law Firm of Marla C. Underell, Jane works hard to apply her experience to every client's unique issues. Her legal experience has highlighted for her the importance of strong client relationships, and Jane strives to bring personal attention and professional expertise to every case. For fun, Jane likes hiking with her dog, running, cooking, and exploring the Southwest.